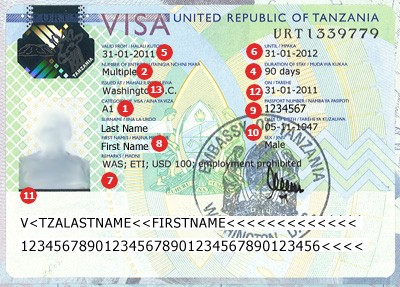 Passport
You must provide your actual signed passport. Your passport must:


Be valid for six months beyond your intended exit date from Tanzania

Have at least one blank visa page (amendments and endorsement pages cannot be used to fulfill this requirement)

Not be frayed, torn, separating, or altered in any other way

If your passport does not meet these requirements, please contact for further details.
Photographs
You must provide two color, passport-type photographs that meets the following criteria:


Be taken within the last three months and printed on high-quality photo paper
Be taken against an all white background
Be two inches by two inches
Provide the full frontal view of your head with your face centered in the middle and displaying a neutral (non-smiling) expression
You may wear neither eyeglasses nor headwear except for religious purposes
Your photos should not be affixed to your application and it may not display evidence of adhesive tape or staples

Business Cover Letter
You are required to provide a Business Cover Letter from your U.S.-based company. All letters must be printed on company letterhead that displays a U.S. mailing address. Use the included sample Business Cover Letter to complete your letter.
Visa Application Form
You must provide one fully completed copy of the visa application form found in this kit. The application form must:


Include answers for all fields

Display your full name as it appears in your passport
Be signed

Proof of Travel Arrangements
You must provide proof of travel arrangements for the duration of your trip. Details of your intended arrangements must:


Include a copy of an itinerary or e-ticket that displays your round trip travel and entry and exit dates for your destination
Show the traveler's full name (as printed in his or her passport)

6.Applicants Under the Age of 18
Minors traveling alone or with one parent or legal guardian must provide an original notarized letter from the absent parent or guardian approving the minor's travel. The non-traveling parent(s) or guardian(s) must also provide of copy of his or her identification. The visa applicant may sign their visa application form. If a parent or guardian decides to sign the visa application form, then they need to indicate their relationship with the visa applicant next to their signature, ex: "Mother", "Father", "Legal guardian".